Regenerate, Resurface, Renew 
Have you battled with uneven skin texture and tone, stubborn acne scars or fine lines and wrinkles on the skin? If you have don't lose hope!
Venus Viva II Resurfacing to the rescue. This revolutionary, non-surgical, non-laser treatment is a versatile and effective solution to improve the overall texture of your skin.  It is completely safe for men and women, and all skin types and colours, and can be used during all seasons.
Venus Viva is exceptional for :
Acne Scars – we see great results after completing Accutane (must be cleared with the doctor)
Fines Lines & Wrinkles
Skin Tightening & Lifting
Improving Texture & Tone
So how does it work?
Venus Viva works by sending fractional radio frequency currents into the skin. Tiny pins will emit the radiofrequency currents into the skin using SmartScan technology.  The NonaFractional RF handpick permits safe, uniform delivery of energy.  The energy settings are customized per patient to address a specific concern. RF technology helps to stimulate collagen and elastin in the dermis, while also producing heat. The heat causes "injury" or a "controlled wound" to the existing collagen. This in depth reaction stimulates the body's healing response.
Okay, all that is great! But what does that mean for my skin? The healing response in turn makes scars or lines  flatter, smoother and the skin becomes more uniform overall in texture and tone.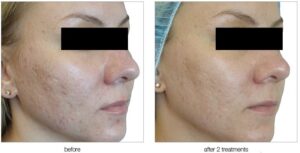 What should you expect?
During a Venus Viva treatment, our patients describe a warm prickling sensation.  We may apply a topical anesthetic cream prior to treatment to aid with any discomfort.
Immediately following treatment your skin may look pink or red – like a mild sunburn.  This can last for 3-4 hours.  Slight skin swelling is possible.  The skin may feel like sandpaper 2-5 days post Venus Viva.
Venus Viva is minimally invasive and treatment time is generally 30-45 minutes. For best results, we recommend a series of 3-4 treatments on a monthly basis. Once the series is complete, it's a good idea to do a yearly maintenance treatment.  We will customize a skin care program to help you maintain smoother more beautiful skin.