Coolsculpting Mississauga
Freeze away fat? You betcha!
We are pleased to offer the Coolsculpting procedure in our Mississauga office to eliminate stubborn fat without surgery or downtime.
CoolSculpting uses controlled cooling to safely and effectively remove stubborn fat that resists diet and exercise.
CoolSculpting results are proven, noticeable, and lasting, so you'll look good and feel great from every angle.
O'Neill Cosmetic Dermatology is a CoolSculpting certified practice.
How Does Body Coolsculpting in Mississauga Work?
Too good to be true? It comes down to science. Fat cells are frozen during the procedure, and then die. Over time, your body naturally processes the fat and eliminates these dead cells, leaving a more sculpted you.
You will like what you see. Once the treated fat cells are gone, they're gone for good.
You can reshape your body! Dr. O'Neill and her staff will develop a customized CoolSculpting treatment plan that addresses your problem areas. We will plan an individualized treatment plan tailored to your body, your goals, and your budget.
Are you ready to fear no mirror? Call us for a CoolSculpting consultation. Nonsurgical, safe and effective long term results in those areas that have resisted diet and exercise.
Book a consultation today to find out if the CoolSculpting fat freezing procedure is right for you.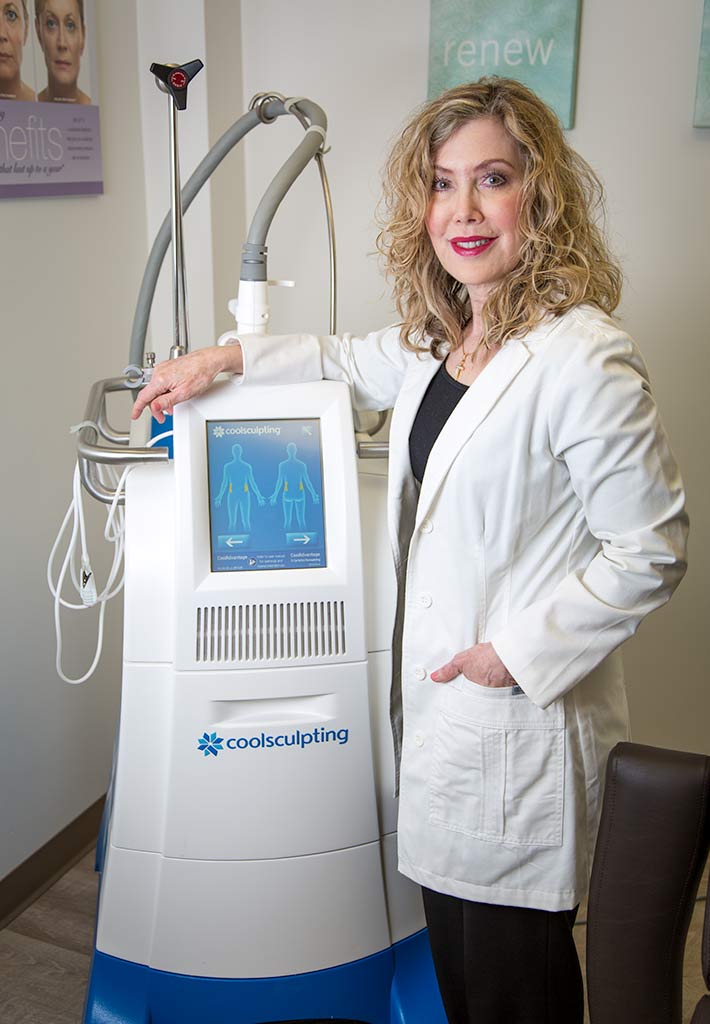 We also offer CoolMini, the newest offering by CoolSculpting to safely treat the unwanted fat below the chin, often known as double chin.
Coolsculpting- Non-Invasive Fat Reduction in Mississauga and Oakville
You will like what you see!
Once the treated fat cells are gone, they're gone for good.
The Details of How CoolSculpting Mississauga Works
CoolSculpting is a revolutionary non-surgical alternative to fat reduction. It is based on the theory of "Cryolipolysis". When I was a dermatology resident, I learned about a condition called "popsicle panniculitis". If a child holds a popsicle for a prolonged period of time against the inside of their cheek, the cheek could appear hollowed out. The cold of the popsicle destroyed fat cells in the child's cheek. Two researchers from Harvard University studied this observation, and determined that fat freezes at a different temperature than the surrounding tissues. And from this research they developed the CoolSculpting technology using the proprietary process called cryolipolysis.
CoolSculpting is not about weight loss – you need diet and exercise to achieve weight loss. Many men and women have stubborn pockets of fat that may be genetically programmed, and are resistant to fad diets, supplements, lunges, crunches and squats. Ask a fitness coach or personal trainer and they will confirm: you can't spot target a bulge or lump with vigorous exercise or dieting. But you can target these stubborn areas with CoolSculpting.
CoolSculpting is the number one non-surgical fat reduction in the world. It was approved by Health Canada in 2008. At O'Neill Cosmetic Dermatology, we use the latest CoolSculpting technology known as 3D cooling. These newest applicators have reduced the treatment time to 35 minutes for most areas. CoolSculpting is a popular alternative to liposuction because:
No incisions
No downtime
Comfortable – many patients nap, read, or use their mobile device during treatment
Safe
Effective – in one session, expect to see a measurable improvement of 20% – 30% reduction in fat on average
CoolSculpting safely targets fat cells, leaving the surrounding tissue unharmed. The fat is crystallized, resulting in cell death. Your body will gradually eliminate these dead cells over a period of 1-3 months on average. After age 20, we do not grow new fat cells. So once they're gone, they're gone for good!
To date, millions of CoolSculpting treatments have been performed worldwide. The results are proven, noticeable and lasting: you can look incredible from every angle! There are over 100 peer reviewed studies confirming CoolSculpting's ability to reduce fat and contour your body.
How a Fat Cell Dies after CoolSculpting
Your body has a fixed number of fat cells.  These cells can become larger if you gain weight, and smaller if you lose weight.
With a CoolSculpting treatment, the fat cells freeze, and begin to die in 1-3 days.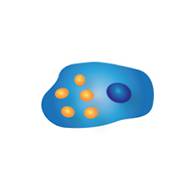 During the death of the fat cell, it begins to collapse.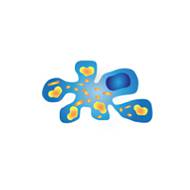 Following your CoolSculpting procedure, the body's "garbage collectors" digest the dead fat cells, which are then naturally eliminated from the body.
What to Expect During your CoolSculpting Mississauga Treatment
Your body contouring is our business! All treatments are overseen by Dr. O'Neill, who is a graduate of CoolSculpting University. You can expect a caring, thoughtful, experienced technician who is CoolSculpting University and Master Class certified. CoolSculpting expertise is critical: up to 70% of your result depends on the treatment plan and applicator choice, applicator placement, and after treatment massage.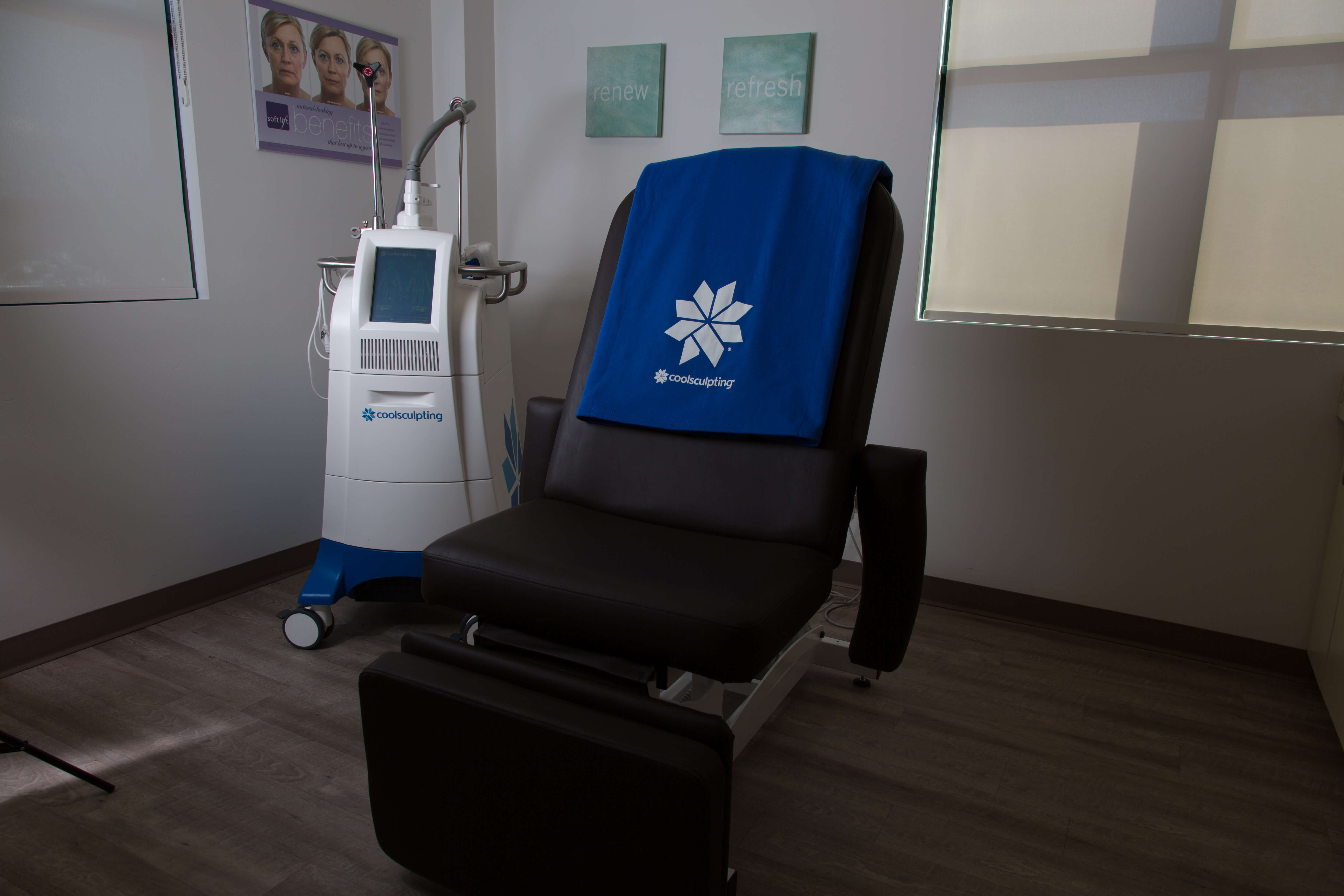 During your complimentary consultation, we will discuss your goals and map out a customized treatment program. We will pinch your fat (no kidding!), mark the areas to be treated, and then place the correct applicator on the bulge. You will feel a cold sensation for the first several minutes (similar to using an ice pack), and then the area becomes numb. We get you cosy with blankets and pillows. Most applicators take 35 minutes. After removing the applicator, the technician will perform a prescribed 2-3 minute frozen fat massage to the area. This is critical! Studies show a 68% improvement with massage. The massage damages the crystallized fat cells, ensuring cell death. The length of your visit will depend on how many areas you wish to treat. You can resume your regular activities right away.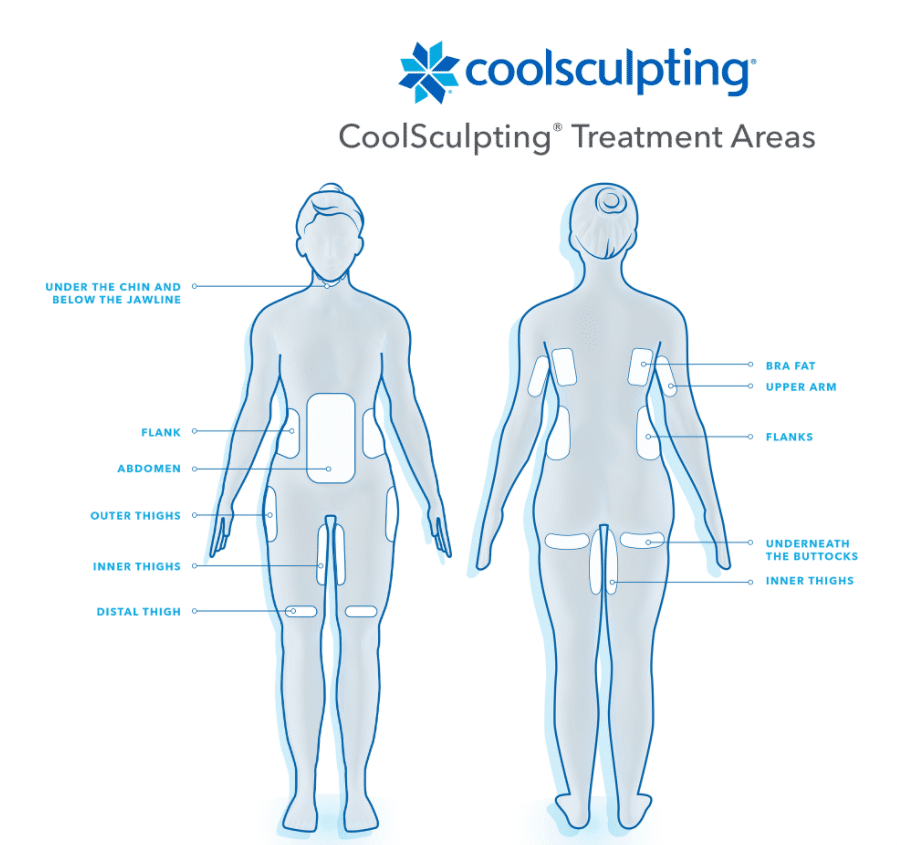 What areas can be treated with CoolSculpting?
Upper abdomen
Lower abdomen
Love handles
Back and flanks
Inner thighs
Outer thighs
Bra fat
Upper arms
Knees
Double chin and jawline (aka submental fat)
Banana roll (under the buttocks)
How much does CoolSculpting cost?
Your CoolSculpting investment depends on:
Which areas you choose to treat
The amount of fat you have in those areas
How much fat you want gone
We are all shaped uniquely, and have different goals. Do you want your clothes to fit better? Or look great in a bathing suit? Bottomline – you need to come in for a consultation. We will assess your target areas, and create a customized plan to reshape your body in the way you desire.
A remarkable 88% of people are concerned with extra fat on the body……..You are not alone! At O'Neill Cosmetic Dermatology, our CoolSculpting Mississauga clinic understands your body struggles. We have helped hundreds of women and men in Oakville, Etobicoke, and Mississauga achieve their desired outcome and say goodbye to pockets of fat and stubborn bulges for good. So cool!
Coolsculpting
Ideal for
Men and women
Unwanted fat resistant to diet and exercise
Abdomen, flanks (love handles), back fat (bra bulge), inner thighs, outer thighs (saddle bags), double chin, upper arms
Providing you with an individualized comprehensive skin health program.
2145 Dunwin Drive, Unit 6
Mississauga ON, L5L 4L9
Do you have questions? I have answers! Fill in the form and submit. 
All information is kept confidential.