Dermal Fillers Misissauga
As we age, facial volume deflates, caused by loss of healthy skin components (collagen, elastic fibers, fat, and even bone), and our slowing ability to regenerate these ingredients. The result? Lax skin, with obvious wrinkles, lines and folds.
Using today's advanced dermal fillers, Dr. Karen O'Neill can help restore lost volume and minimize signs of aging. Dr. O'Neill is renowned for her artistry to achieve natural looking, incredible results. Commonly treated areas using wrinkle fillers, in our Mississauga/Oakville location, include cheeks, chin, lips and smile lines.
At O'Neill Cosmetic Dermatology, only Dr. O'Neill performs injectable services: a feature which distinguishes our clinic from most spas. 
How Injectable Fillers Work
First Dr. O'Neill will carefully assess your face, and discuss your goals. She uses advanced techniques to safely restore and maintain youthful contours without looking overfilled or unnatural. Dr. O'Neill is an expert injector, and the effects are immediate and impressive.
As a dermatologist, Dr. O'Neill has years of clinical experience and artistry to help you achieve long lasting, natural results safely.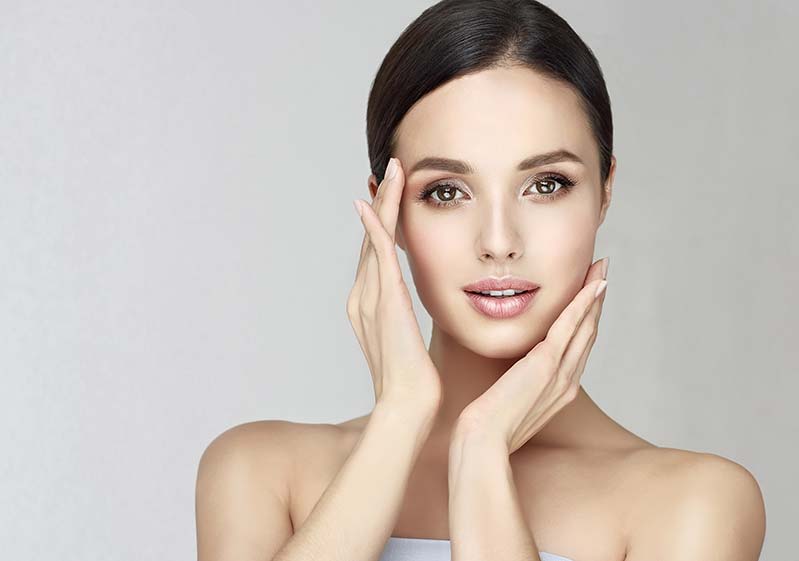 What is in a dermal filler?
Dermal fillers are jelly-like material that is injected beneath the skin to restore lost volume, smooth lines and soften creases, enhance facial contours and plump the lips.  Dermal fillers are made of hyaluronic acid, which is a naturally occuring sugar molecule found throughout your body.
How long do dermal fillers last?
The longevity of your dermal filler in Mississauga treatment depends on:
The type of dermal filler used

Where the filler is injected

Your body's metabolism of filler
On average, you will require repeat treatment every 6 – 18 months to maintain your results.
How much do dermal fillers cost?
The cost of your dermal filler in Oakville treatment depends on:
The type of filler used

The amount of filler used

The area being treated
Dr. O'Neill and her team will work with you to create a customized 360° plan tailored to your aesthetic goals.  We will carefully advise you on treatment options and their costs.  Remember, it's the expertise and experience of your injector that makes the difference between natural and fake looking results.  It's not the type of filler –  it's the technique and skill of the injector you are paying for.
Are dermal fillers safe? 
Dermal fillers have become so popular because they are a very safe way to create youthful, natural results.  Dermal fillers use biocompatible hyaluronic acid, which is a sugar molecule that is naturally occuring in your skin.  We lose hyaluronic acid with age (along with bone, fat and collagen).  These fillers are not sourced from animals, and mimic naturally occurring hyaluronic acid.  
The experience of your injector is the chief determinant of safety with dermal fillers.  As a board certified dermatologist, Dr. O'Neill has the knowledge of technique and anatomy to achieve a natural transformation that respects your facial proportions and rejuvenation goals.  Your results are only as good as the hands that inject you!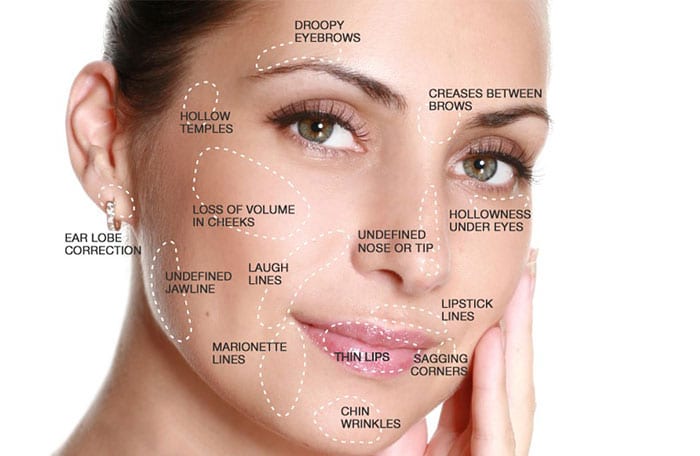 Where are dermal fillers used?
Hyaluronic acid fillers can smooth, lift, contour and shape the face, neck, chest and back of the hands.  Dermal fillers can safely:
Correct sunken cheeks and temples

Fill hollowness below the eyes (aka "Tear Troughs")

Plump and enhance lips; correct lip asymmetry

Soften vertical lip lines (aka "Smokers Lines")

Define the jawline

Augment a small chin

Smooth out lines around nose and mouth (a.k.a. Marionette or puppet lines, smiles lines and parentheses)

Improve facial asymmetry
What to expect during your filler treatment
It starts with a conversation.  Dr. O'Neill and her team will discuss your area of focus.  Sometimes we may direct you to focus on an additional or different area to achieve best results.  We will review your medications, allergies, and medical history.  Pre-treatment photographs are taken.  
The skin is cleaned, and you may be given a topical anesthetic to numb the area prior to injections.  Most of the fillers used in our Mississauga/Oakville clinic contain lidocaine, an anesthetic which helps to minimize discomfort before and after treatment.  Dr. O'Neill performs all the injections at our clinic – a feature which distinguishes us from a medspa.  Dr. O'Neill will inject a precise amount of filler strategically below the skin.  You will notice results immediately after your filler injections.  It is recommended you avoid extreme heat (eg. sauna, steam room, hot yoga) and strenuous exercise for a day to avoid swelling.  Otherwise, you may go back to your normal activities.
What are possible side effects of dermal fillers? 
Side effects are uncommon with dermal fillers, and are usually related to the injection itself.  Any injection procedure may cause:
Redness

Temporary swelling

Mild bruising
See our blog on What to do before and after your filler treatment.
All Botox treatments are performed in our Mississauga/Oakville area practice by Dr. O'Neill. Based on her expertise as one of Canada's premiere Botox injectors, and over ten years experience perfecting the art of cosmetic injectable treatments, Dr. O'Neill has been selected by Allergan as an educator and speaker on Botox therapy.
Dr. O'Neill has the artistry, experience and expertise to customize your treatment, minimize side effects, and provide natural looking results.
Providing you with an individualized comprehensive skin health program.
2145 Dunwin Drive, Unit 6
Mississauga ON, L5L 4L9
Do you have questions? I have answers! Fill in the form and submit. 
All information is kept confidential.