We are thrilled to have partnered with skinbetter science, and are currently the exclusive retailer of this remarkable skin care line in Mississauga.
As a board certified dermatologist, I know skin.  And I understand how the market is saturated with products making unrealistic claims.  So I've done the research for you:  read on to learn why I'm using skinbetter and why I recommend it for all my patients.
I'm all about evidence based medicine.  I want science behind the products I use and recommend.  "Accomplished science" is one of the tenants of the skinbetter line.  The advanced chemistry (think Restylane and Dysport) has created product innovation that is award winning.  The products are jam packed with active ingredients that really work.  And through a new innovation – lipid encapsulation – the active ingredients actually get to where they're needed in your skin.  The entire line is fragrance and dye free; paraben and sulphate free; non-comedogenic; gluten free; free of animal by-products; and cruelty free.  With skinbetter there is no need for a complicated, multi-step program.  The line is performance proven with peer reviewed studies.
PROTECT YOUR SKIN
I use Alto Defence Serum every morning, before my sunscreen.  This remarkable product contains 19 anti-oxidants.  It contains Vitamin C derived from the Kakuda Plum (one of the most potent forms of Vitamin C), Vitamins A & E, Resveratrol, Acai berry, green tea flavonoid, Coenzyme Q10, licorice extract, and glutathione among this powerhouse of anti-oxidants.  Think of it as a second line of defence (with your sunscreen being your first protection) against free radicals created by ultraviolet, infrared, and blue light; smoke; pollution; and ozone.  Free radicals destroy skin cells.  Alto protects inside the cell, outside the cell and on the cell wall.  It's what we call "360 degree protection".
REJUVENATE YOUR SKIN
We all aspire to skin with a beautiful, even tone.  That's where Even Tone Correcting Serum will help.  This amazing product out performed hydroquinone in studies on correcting hyperpigmentation.  It improves brown, red and yellow discolouration and creates an even tone. We call this "b.r.y.t." complex, and it is free of hydroquinone and retinol.  It may be used morning and night, and is suitable for all skin types.  It takes about 8 weeks to see an improvement in skin clarity, with best results seen at 12 weeks.
MOISTURIZE YOUR SKIN
I am loving Trio Rebalancing Moisture Treatment.  Trio will rebalance, restore and replenish your skin.  This moisturizer is rich without being heavy or greasy.  It contains hyaluronic acid, ceramides and glycerin for hydration.  I use it every night.  Don't forget to apply it to your neck and décolleté too.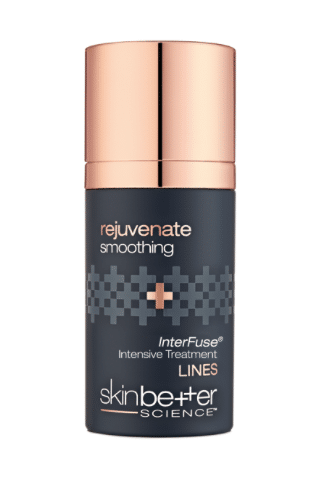 TRANSFORM YOUR SKIN
Want to reduce the look of wrinkles and expression lines?  Interfuse Intensive Treatment Lines will help fine lines and wrinkles on the forehead, around the lips, smile lines and crow's feet.  The patented, state-of-the-art delivery methodology drives injectable-grade hyaluronic acid faster and deeper to topically fill the appearance of expression lines.  It also contains a complex of amino acids, peptides and Vitamin C to nourish collagen.  Apply a thin layer to the target area, followed by your skinbetter regimen.
We are here to help you achieve your skin care goals.
Call our office and book a complimentary skin care consultation to learn more about how skinbetter can help your skin.
  905-820-SKIN (7546)