I don't think I could have imagined that in 2020 I would be swamped with questions about maskne = mask + acne. However, we are in the midst of a global pandemic, and to prevent the spread of Covid-19 virus we are covering our mouth and nose with a mask. As schools have started to re-open, and some folks are leaving their home office and headed back to the workplace, more of us are wearing masks and for more extended periods of time. As a result, many individuals – especially those with sensitive skin or pre-existing skin conditions – have developed maskne.
What it is and Why it Happens
Maskne is an outbreak of acne spots on areas of the face covered by a mask. Pimples and red bumps appear on the chin, cheeks and nose. Maskne is not a new phenomenon: medical professionals (particularly doctors and nurses in the operating room) have battled this problem due to wearing a surgical mask regularly. Maskne is actually a type of "acne mechanica". This is the type of acne I see where a football player's helmet rubs, or where the chin guard of a hockey helmet rests.
Prolonged wearing of a mask creates heat, friction and occlusion on your face. This combined with a moist environment from talking, breathing and sweating is a petri dish for breakouts. The pores get clogged and can become pimples. Protracted occlusion, heat and sweat can cause the skin to become dry, itchy, scaly or raw.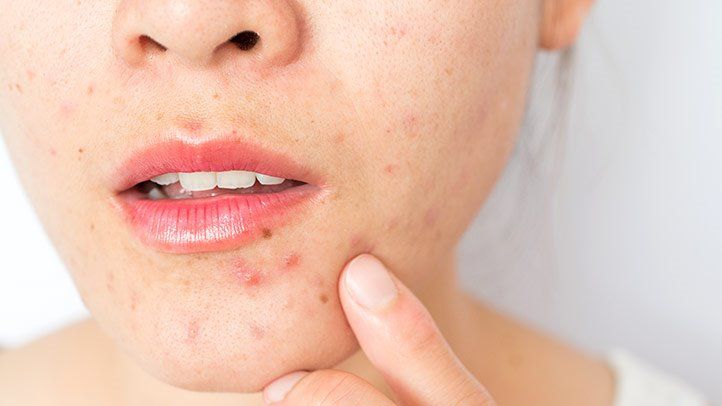 You may be at greater risk of Maskne if you are living with skin conditions such as:
Rosacea

Acne

Atopic dermatitis or eczema

Seborrheic dermatitis

Allergies

Sensitivity to dry air or humidity
How to Prevent Maskne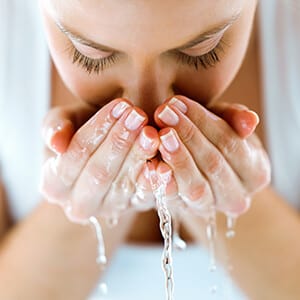 Wash your face before donning your mask.  Use a gentle cleanser and lukewarm water.  Your goal is to prevent oil and dirt from being trapped on the surface skin below the mask, which can cause breakouts.  Your face needs to be clean before you put on your mask.

Apply a moisturizer.  Choose a water based moisturizer to keep your skin hydrated,

and

to act as a barrier between your face and your mask.  This will rescue friction and prevent chafing.  Apply the moisturizer onto cleansed skin before and after wearing your mask.  I suggest fragrance free moisturizer, especially if you have sensitive skin.  Look for a moisturizer that contains hyaluronic acid or ceramide for a boost of hydration, or dimethicone for extra barrier protection.

Break up with makeup (I hope just temporarily!).  Wearing foundation or concealer under a mask may clog pores and cause pimples.  Makeup residue will also soil your mask.

Stay away from harsh products.  This is not the time to experiment with potentially irritating ingredients (like salicylic acid, benzoyl peroxide or retinol) if you are naive to their use.  Wearing a medicated skin care product under your mask will be more irritating.

Wash your mask.  Oil, sweat, saliva and nasal mucus can contaminate your mask.  Yuck! A non-medical face mask should be washed daily.  You can use your normal laundry detergent, and dry it in the dryer.  Store your clean laundered masks in a bag to keep them clean.
6. If you have sensitive skin, choose a fragrance-free laundry detergent and avoid fabric softener.
Make Sure Your Mask Fits Properly
A good mask is one that fits properly: not too tight or too loose. The straps should be snug, so you don't have to touch and adjust your mask frequently. It needs to cover your mouth and your nose. It shouldn't gap, as this will cause chafing.
Tight weave fabrics and masks with several layers offer the best protection. Some fabrics are softer and more flexible, so they may be more comfortable to wear. Always wash a brand new mask before wearing (like you would do for new underwear), to remove any fabric finish which may cause irritation.
Advice for Students Wearing A Mask to School
For students attending class all day, I would recommend having 2 masks per day: one for the morning, and a new mask for after lunch. It is easy to contaminate a mask! Children of all ages will notice their mask becomes damp from talking, laughing, and yelling. If a student tends to be careless, consider a 3rd mask as a back up in the event a mask is soiled, dropped, contaminated or lost. Your child will need a bag to store their clean mask until ready to use. Consider how they will store their mask when eating or playing outside for recess.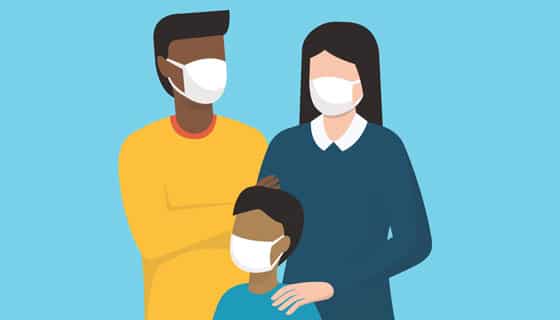 Don't stop wearing a mask!  Yes, wearing a mask all day makes you hot, sweaty and uncomfortable.  But wearing a mask is your first line of defense in the fight to stop the spread of Covid-19.  When you wear your mask, you are protecting others and show respect for them and our community at large.  And vice versa.
Stay Safe!
We can't wait to help you!
Let us help you customize a program just for you. We can't wait to help you achieve your goal!
Call today  905-820-7546 (SKIN)
 or