A common goal amongst my patients, family and friends, it's that we all want beautiful skin.  Skin that is hydrated, smooth, and with an even tone is a common request.
How do I take care of my skin?
Where should you start?  Let's review some basics.  Gorgeous skin needs:

Restful sleep

A healthy diet with lots of vegetables and fruits, and limited refined sugars

Adequate water intake (aim for 6 – 8 glasses per day)

Limit your alcohol consumption 

Quit smoking

Exercise

Stress management
Great skin is not simply a matter of your DNA.  Your daily habits have a huge impact on what you see in the mirror.  Some general rules:
1.    Keep it simple.  This is especially true if you are just starting a skincare routine.  You don't need 10        products for morning and 10 more products for evening.
2.   Sunscreen is the #1 product for healthy, youthful skin.  If I could only choose one product for my            patients, this would be it.
3.   Maximize your night routine.  Your skin cells need nutrients the most while you sleep.
4.   Give it time.  There is no instant fix.  As a rule of thumb, give a new product 6 weeks to assess its          effectiveness.
5.   Stick with it.  Maintaining a proper skincare routine can ensure you are doing your best to ward            off damage and signs of aging to keep our skin youthful and glowing.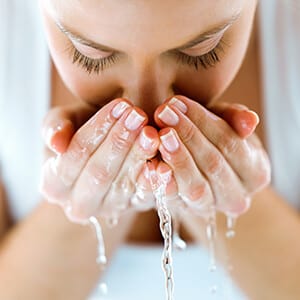 What is a Simple Skincare Routine?
What do you actually need in your skincare routine?  Of course, this depends on your skin type (normal [balanced], oily, dry, sensitive, and combination), your age, and your goals.  I created a strategy called the "SPARO" system:
1.   Sunscreen
2.  Peptides (the building blocks for collagen production)
3.  Antioxidants (the anti-inflammatory, skin-firming, wrinkle-softening, acne scar–reducing, sun damage–repairing, and brightening superstars of the beauty world)
4. Retinol (the best studied ingredient to stimulate collagen production and accelerate skin turnover,        smooth fine lines and wrinkles, and fade acne marks, discolouration and blemishes)
5. Other (a specialty item such as an eye serum, or neck firming cream, or brightening product)
How do I pick a skin care product?
 We can help!  We KNOW skin!  As a board certified dermatologist, I specialize in all things skin.  I spent 10 years of post-secondary education to become a dermatologist.  My team and I can curate a skin care program customized to your skin type, individual needs, and budget.
There is so much misinformation on line.  Social media influencers promoting products out of self interest (ie. they are paid).  Celebrities with no dermatology training telling you what to buy and use.  Self proclaimed skin care experts recommending the craziest things with no scientific proof.  Remember:  there is no "Dr. Google".  And there is no one regulating what is put on line (even my website). 
How can I get flawless skin?
In truth, "perfection" is an unrealistic goal.  The images we see online and in social media are often digitally altered.  Photoshopped, over illuminated, colour enhanced……. Recognizing this fact, and not comparing yourself to an unrealistic image is important.   
Choosing the right skin care products, with the best ingredients for your skin type and needs, and using them in the correct sequence, and in the correct amount is an important first step.  Be patient!  Most products take 6 – 12 weeks to make a difference.
What is the most important skin care product?
This is an easy answer:  SUNSCREEN.  Sunscreen will help prevent unwanted damage from ultraviolet radiation.  By blocking UV rays, you prevent brown spots and freckles, thinning of the skin due to loss of collagen and elastin, minimize fine lines and wrinkles, AND reduce your risk of skin cancer.  Need I say more?
CHOOSE how
you face
the world
Reach out today!
2145 Dunwin Dr., Unit 6, Mississauga, ON L5L 4L9
Book a consultation
The sooner you start, the sooner you'll see results!
BLOG POST: What is a Good Skin Care Routine?